2020 — Rick Reinders & Chip Carlson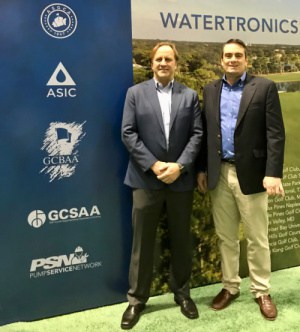 Rick Reinders & Chip Carlson
Winner of the Roy William Memorial Award for 2020
Rick and Chip are a formidable team, starting as childhood friends, and then working together at Reinders Irrigation, the parent company of Watertronics. Building smaller pump stations for golf course and landscape applications for their Midwest regional market, Rick and Chip, along with Rick's father, Richard Reinders, Sr., saw an opportunity to fill a market need, and established Watertronics in 1987. For the next twenty years, Watertronics developed into a market leader in golf course and landscape pumping solutions, completing projects all over the world.
In 2008, Watertronics was purchased by Lindsay Corporation, and Rick and Chip both continued in leadership roles of the newly acquired company. In 2018, the circle was completed when Rick and Chip repurchased Watertronics back from Lindsay.
Chip and Rick are partners in running all aspects of the business operations. Together, they have developed a strong company culture of saying "yes" to challenges. They are resolute in listening to their customer's needs and challenging their teams to develop innovative solutions.
It is this philosophy of "yes" that has made Watertronics such a success with their customers and with the consultants that spec their products. Their eagerness to listen and help solve even the most project specific problem, have made them an important resource in the irrigation world. It is this cooperative and innovative spirit that has earned them the Roy Williams Award.
ASIC is a society of irrigation professionals and green industry representatives dedicated to the responsible use and preservation of water resources.
IA Show: December 5-9      Las Vegas, NV
ASIC National: April 23-25 Scottsdale, AZ