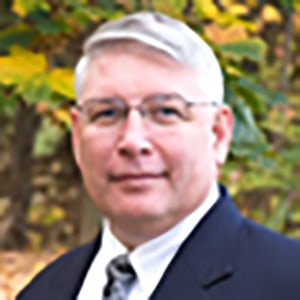 Winner of the Roy William Memorial Award for 2017
Brian has had a multitude of achievements in the irrigation industry.  His firm, Irrigation Consulting, Inc., was founded in 1992—at the time, one of few independent irrigation firms located outside California.  He grew the firm into one of the leading national irrigation consulting firms, both in size and scope of work performed.  From the start, Brian strove to push the industry on issues of water conservation and management.  And he has been a relentless advocate for the role of independent irrigation consultant.
Brian has been a prolific activist in the industry speaking and presenting at numerous industry events including ASIC National and Regional Conferences, Irrigation Association (IA) Show & Education Conference, GCSAA Golf Industry Show, WaterSmart Conference plus many Regional Associations.  He has also shared his knowledge as an instructor at University of Massachusetts, Rutgers University, and Ohio State University.
He served on countless committees, most notably as current Chairman of Smart Water Application Technologies (SWAT), Past Chairman of the IA Education Foundation, Past Chairman of the IA Certification Board of Governors, and currently serving on the American Society of Agricultural and Biological Engineers (ASABE) Landscape Irrigation Standards Committee.  Along the way, he found time to serve as President of both ASIC and IA.
Brian is the recipient of many past Awards and Honors as well.  He was named an ASIC Fellow in 2014—an honor recognizing exceptional career work that has advanced the art, science and professionalism of irrigation consulting and his countless volunteer hours given on behalf of the irrigation industry.  In 2015, he was awarded the prestigious IA Industry Achievement Award and was the 2009 EPA WaterSense Partner of the year.
ASIC is a society of irrigation professionals and green industry representatives dedicated to the responsible use and preservation of water resources.
May 2-4, 2021
2021 ASIC National Conference in New Orleans