Resources
---
Standards
ASIC/IA Best Management Practices
---
Public Policy Issues
California Drought
The Independent Technical Panel on Demand Management Measures (ITP) draft report
ASIC Response to draft report
DWR Model Water Efficient Landscape Ordinance (MWELO)
ASIC Response to MWELO
U.S. Drought Monitor for California
Waters of the United States (WOTUS)
---
Irrigation Schools Directory
Click HERE to be directed to the The Irrigation Foundation online schools directory. The directory is designed to give high school and college students interested in irrigation-related studies a chance to research educational opportunities available to them.
---
Design Guides
Design Guides are being updated:  Please check back soon.
Earth Grounding Electronic Equipment in Irrigation Systems–Guidelines
Wire and Cable Color Coding–Guidelines
Communication Cable–Guidelines
---
Smart Irrigation Month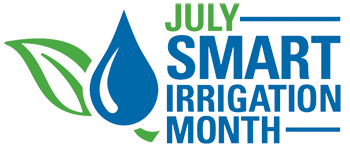 Do your customers understand that efficient irrigation can save them water and dollars? Become part of the Smart Irrigation Month campaign and position your company as a leader in water-saving practices with customers, business partners and peers. Whether your business is big or small or focused on agriculture, turf and landscape, or golf applications, there are many ways to participate in the Smart Irrigation Month campaign.
Here are some smart ideas to help you become a smart leader this July.
Market your business as a leader in smart irrigation:
Promote the benefits of smart irrigation with new social media graphics that can be customized to meet your needs.
Add the new social media cover photos on your company profile or individual page.​
Add the Smart Irrigation Month logo to your website, email signature, ads, customer presentations, field signs, invoices and more.
Use statement stuffers with simple smart watering tips.
Include an article on irrigation best practices in your company newsletter.
Encourage sales and marketing staff to participate in dealer and distributor Smart Irrigation Month activities.
Host a live demonstration of water-saving irrigation technologies in the field or at your location.
Feature water-efficient products and services in displays, ads, promotions and product demos with the Smart Irrigation Month logo.
Use a banner, outside signage or counter sign to encourage customers to ask about how smart irrigation can save water and money.
Make smart irrigation the theme of sales calls.
Give awards to customers and/or business partners who promote water-efficient practices.
Encourage customers to make existing systems more efficient with easy retrofits, like rain sensors, moisture sensors and pressure regulators.
Engage with others to promote smart irrigation:
Submit a press release or letter to the editor of your local newspaper.
Lobby your town to proclaim July as Smart Irrigation Month.
Partner with your local water provider.
Volunteer to speak to a local homeowner association, garden club or civic group.
Give out copies of the Smart Irrigation Month coloring book at a farmers market or county fair.
Ask your local radio station to play a public service announcement.