Resources
---
July is Smart Irrigation Month!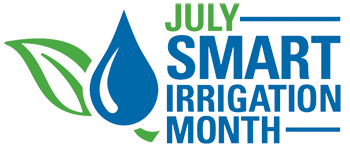 Celebrate the benefits of smart irrigation.
Smart Irrigation Month is an Irrigation Association initiative to promote the social, economic and environmental benefits of efficient irrigation technologies, products and services in landscape, turf and agricultural irrigation.
Video Contest
Enter to win this year's Smart Irrigation Month video contest and show us how you practice this year's theme "Smart Irrigation in Action." Click here for rules and prizes.
Technology Tuesday
Participate in the official start of the Smart Irrigation Month celebration on Tuesday, July 9, 2019. Follow us on social media as we kick off this year's campaign and announce the 2019 Irrigation Association award winners. And, WEAR BLUE.
Be a Smart Leader
Smart Irrigation Month provides numerous ways for you to be an industry leader in efficient irrigation, while helping your customers save water and money. Take advantage of the ideas and resources provided to
---
Standards
ASIC/IA Best Management Practices
---
Public Policy Issues
California Drought
The Independent Technical Panel on Demand Management Measures (ITP) draft report
ASIC Response to draft report
DWR Model Water Efficient Landscape Ordinance (MWELO)
ASIC Response to MWELO
U.S. Drought Monitor for California
Waters of the United States (WOTUS)
---
Irrigation Schools Directory
Click HERE to be directed to the The Irrigation Foundation online schools directory. The directory is designed to give high school and college students interested in irrigation-related studies a chance to research educational opportunities available to them.
---
Design Guides
Design Guides are being updated:  Please check back soon.
Earth Grounding Electronic Equipment in Irrigation Systems–Guidelines
Wire and Cable Color Coding–Guidelines
Communication Cable–Guidelines
---