ASIC Fellows
Being selected as an ASIC Fellow is a great honor.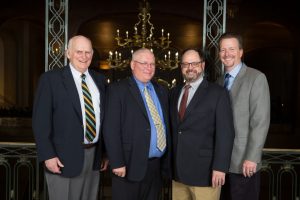 ---
A Fellow is recognized for being outstanding in their career as measured by their
Exceptional career work which has advanced the art, science and professionalism of irrigation consulting.
Leadership roles which contributed to heightened public recognition and respect for the profession.
Service to the profession, which includes sharing their knowledge through public speaking, teaching or written articles and publications.
Volunteer hours freely given for the betterment of industry initiatives and organizations.
---
Only 16 people have been named ASIC Fellow since the first Fellow was selected in 1992.
---
2019 Bob Scott —Irrigation Consultant Services, Inc.
2018 Jeffrey Bruce —Jeffrey L. Bruce & Company
2017 Steven Hohl —Water Concern, Ltd.
2015  Doug Macdonald — Aqua Engineering, Inc.
2014  Brian Vinchesi — Irrigation Consulting, Inc.
2014  Brendan Lynch** — Lynch & Associates, Ltd.
2007 James Barrett — James Barrett Associates, LLC
2002  Don K. Burns* — DKB Irrigation Consultants, Inc.
2000 John Blevens* — Irrigation Consultant (formerly ICS, Inc.)
1999  Stephen W. Smith — Aqua Engineering, Inc and Wade Water, LLC
1997  David D. Davis** — David D. Davis and Associates
1996  Richard W. Smith* — Richard W. Smith & Associates, Inc.
1994  David D. Pagano — d.d. Pagano, Inc.
1994  Bob Cloud** — Associated Irrigation Consultants
1994 Russell D. Mitchell — Russel D. Mitchell & Associates, Inc.
1992  Chet Sarsfield** — Irrigation Technical Services
** Deceased
*    Retired
---