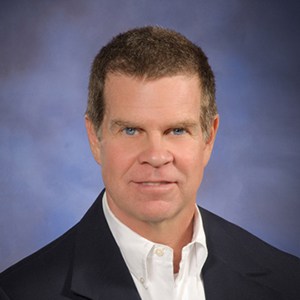 Winner of the Roy William Memorial Award for 2014
Jim has dedicated the last 30 years of his career teaching the importance of – and improving the practice of – professional irrigation. His guidance in critical water conservation principles represents in part the future of irrigation.
Jim was introduced to irrigation in Dallas, TX, working for a small landscape and irrigation company where he learned to design and install irrigation systems. Armed with a BS in Horticulture from Louisiana State University and his Texas Irrigator's License, he started a local irrigation contracting company in Texas. He later earned his Masters in Landscape Architecture from LSU.
Laiche joined The Toro Company in 1988 calling on contractors, consultants, distributors and golf courses. As regional sales manager, Laiche organized numerous Toro University training events and has taught hundreds of irrigation workshops at various national universities. He also has served Toro as a central control specialist, working with several large institutions to reduce irrigation water use, including Disney, University of Notre Dame, Baylor University, Central Park, General Mills, Yum Brands and Darden Restaurants.
ASIC is a society of irrigation professionals and green industry representatives dedicated to the responsible use and preservation of water resources.
ASIC National: May 5-7, 2024 Victoria, BC